04 Mar

Trump Proposal Would Slash NOAA's Budget … Again

With this year's funding proposal for the National Oceanic and Atmospheric Administration (NOAA), the Trump administration has yet again put forward cuts to our nation's premier ocean agency. For the past four years, Congress has made it clear that these funding proposals are unacceptable. It is critical that Congress sweep these drastic cuts aside once again and continue to fund NOAA at or above current funding levels. What our nation's coastal communities do not want (and most certainly cannot afford) are massive cuts to the agency tasked with managing our ocean and coastal resources. And yet, the President's proposal would entirely eliminate Sea Grant, Coastal Zone Management Grants, the National Oceans and Coastal Security Fund, and National Estuarine Research Reserves. It would also slash funding for the Integrated Ocean Observing System, climate change research, habitat conservation, programs that manage coral reefs and marine mammals and sea turtles, and much more. (You can learn more about how just some of these programs benefit people and local communities at The More You NOAA.)

Our coastal communities face a multitude of challenges including sea level rise and coastal erosion, harmful algal blooms, ocean acidification, shifting fisheries stocks, disaster preparedness and resilience. NOAA and its programs help our communities understand and prepare for those challenges and more. The proposed cuts would cripple those efforts and leave our coastal communities more vulnerable. Everything from basic research to help us understand the threats, to local on-the-ground efforts to address them is on the chopping block.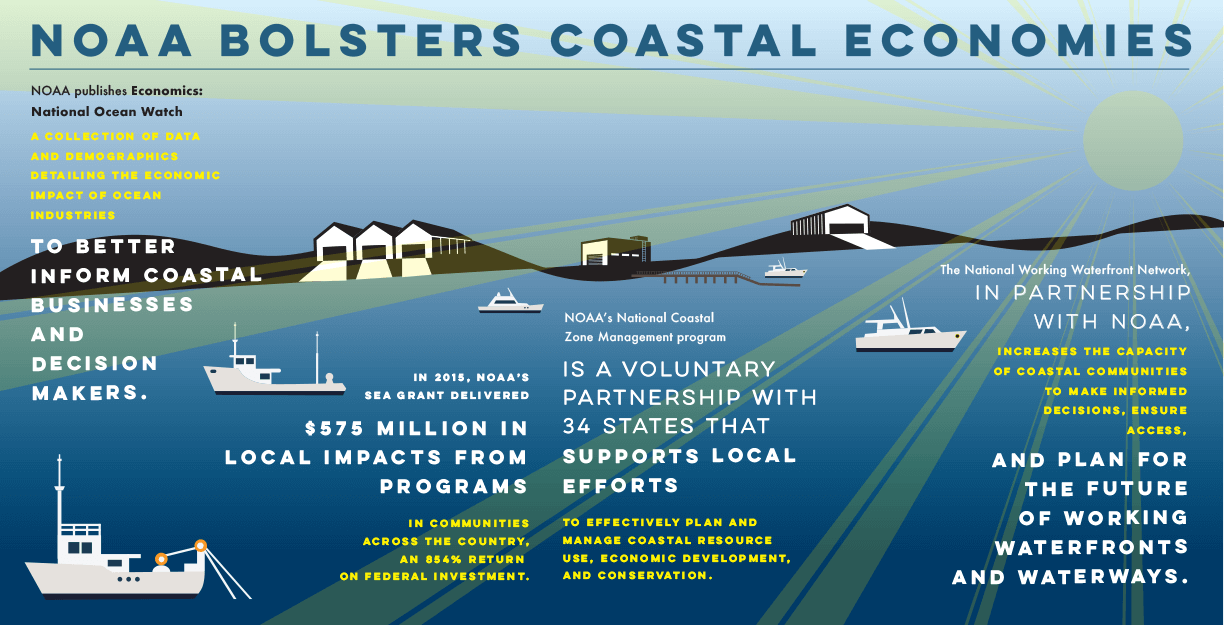 There is good news, and thankfully that leads us to what happens next. While the President puts forward the budget proposal, this proposal does not determine how government agencies are funded—but rather, Congress decides. And as many times as the Trump administration has proposed gutting NOAA, Congress has refused. In fact, this fiscal year funding for all of NOAA's ocean programs was either even with or higher than the year before. Ultimately, Congress decides funding levels, and members from both parties recognize and support the important work being done by NOAA. They know how vital NOAA's programs are because they have heard your voice and stories from folks across the country that work on, recreate on or otherwise depend on our nation's ocean, Great Lakes and coastlines. You can find just a few of these stories here.
Congress has gotten to work. The House of Representatives has started holding budget hearings and next comes drafting the budget bills. Final funding packages (including the one that buoys NOAA) should be finalized this spring. That means this, right now, is also your time to weigh in and let your representative know you support NOAA!
Stay current in ocean news
Sign up for our emails
The post Trump Proposal Would Slash NOAA's Budget … Again appeared first on Ocean Conservancy.